I'm gonna repeat this one more time.. I love green lens..
Eventhough it doesn't suit my skin tone, I will still love it. I don't know why. Haha.. Maybe I just want to be different.. People have been loving this grey and brown lens. It's too main stream.. :P
Sugar Candy is one of the popular lenses of all Dueba's lens. This lens was features in Egg Magazine. I don't even know what it is, but I think it's a popular magazine.. Lol
Anyway, I got it in green. Previously, I has them in brown and pink. But it's expired.. Too bad...
I like the pink color lens. It gives me this soft pink look, but not spooky at the same time. Even my friend who think that I'm a creepy person who like to ear weird lens color, they think that this pink looks nice.
Back to Sugar Candy Green, this lens is also a soft green lens.
I will recommend this lens for those who like green color lens, but you don't want it to look creepy.. It looks like a soft dark green lens to me. I think is because my eyes is very small..
Let me show you.......


~
~
~
~
~
~
~
~
~
~
~
~
~
~
~
~
~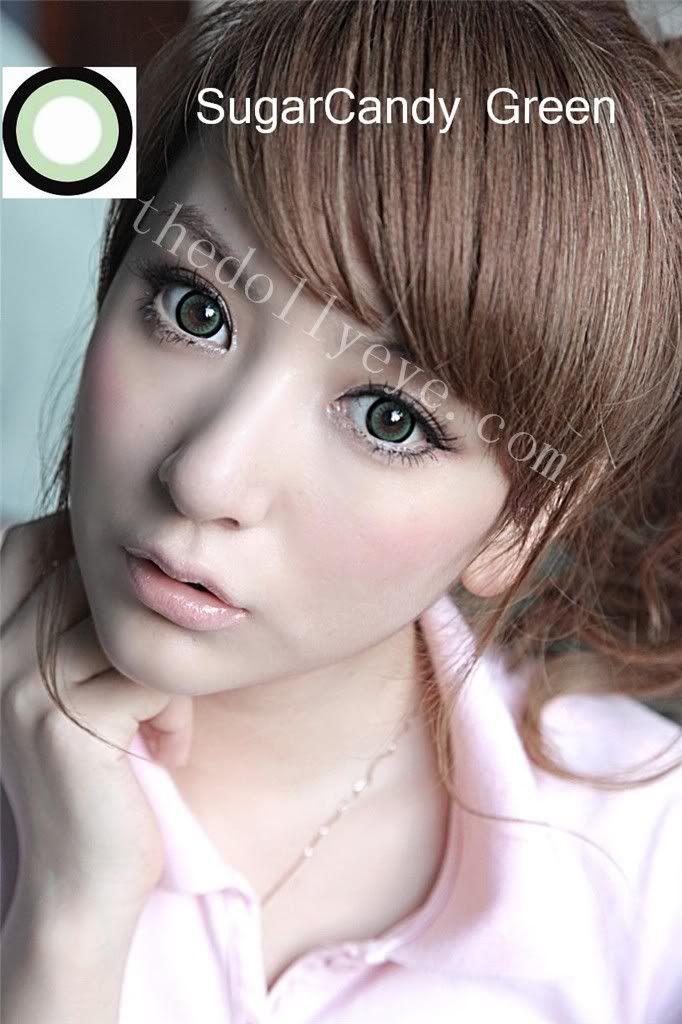 This is the pic of the official model..
Actually, the design of the lens is not as smooth as the picture shown. Not on the model, but the picture of the lens at the top left. It looks more like a spike around the black ring (like how the model's eye look like)
This is after I wear them.. I DO CLEAN them again after this.

and below are pictures of me wearing it..

*
*
*
*
*
*
*
*
*
*
*
*
*
*
*
*



Totally can't see any color.. LOL!
My eyes are too small!! Further, I did not really get enough sleep for this few days..
It looks green only under a bright sun light.. Or at least for me c0z I have a small eyes.
Look at my outfit.. Hehe.. Love it!
Overall, I will rate this lens 9/10 I love it~
Firstly, this lens doesn't look creepy at all. So, if you are looking for a lens that shows the green color very well, this lens is a definite NO. The color looks more like a soft green inside a room. Even when I went out, it's not very noticeable. People will know that I'm wearing lenses but they can't really tell what color it is.
Comfort, this lens is actually very comfortable. I took these pics after I reached home from school. Morning class till afternoon.. No problem at all..
Design, It's cute! Also, it has this thick outer black ring, which gives me the rounder and bigger eye look.. I like how this lens make my eyes looks bigger but doesn't look as creepy as the other lenses..